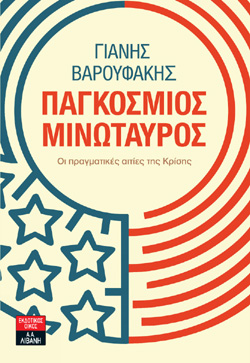 Six months after its launch, The Global Minotaur has now been published in Greek by A.A. Livanis. Click here for the relevant web site. A brief description in Greek follows. For the English, original, version click here. And for the German translation here.
«Το βιβλίο αυτό είναι μια από εκείνες τις πολύ σπάνιες εκδόσεις για την οποία μπορεί κανείς να πει ότι είναι επείγουσα, έγκαιρη και απολύτως απαραίτητη». Terry Eagleton
Τι έφταιξε τελικά; Η απληστία; Οι πολιτικοί; Οι τράπεζες; Εμείς οι ίδιοι;
Πολλά έφταιξαν και δύσκολα κάποιος μπορεί να πείσει ότι δεν προσέθεσε κι εκείνος το λιθαράκι του στο οικοδόμημα της Κρίσης. Όμως όλα αυτά είναι υποσημειώσεις σε ένα μεγαλοπρεπέστερο, σχεδόν μυθολογικό, δράμα. Ένα οικουμενικό έπος οι ρίζες του οποίου ξεκινούν στη Μεγάλη Ύφεση του 1929 προτού επεκταθούν στη δεκαετία του '70. Τότε ήταν που, όπως οι Αθηναίοι είχαν αναγκαστεί να τρέφουν με απαίσιους «φόρους υποτέλειας» το έγκλειστο στο Λαβύρινθο κτήνος, έτσι κι ο υπόλοιπος κόσμος άρχισε να χρηματοδοτεί τον αδηφάγο Παγκόσμιο Μινώταυρο – τα αμερικανικά ελλείμματα.
Τώρα, από τα ερημωμένα μαγαζιά στους δρόμους των ελληνικών πόλεων μέχρι τις μεγαλεπήβολες συζητήσεις στα κέντρα της αμήχανης διεθνούς εξουσίας, όπου και να κοιτάξουμε, βλέπουμε τις επιπτώσεις του θανάσιμου τραυματισμού, εν έτει 2008, του Παγκόσμιου Μινώταυρου.
Ο Παγκόσμιος Μινώταυρος αφηγείται τα πραγματικά αίτια που επέβαλαν την Κρίση σε ολόκληρο τον πλανήτη και τα οποία, αν παραμείνουν κρυφά, ελαχιστοποιούν τις δυνατότητές μας ως Έλληνες, ως Ευρωπαίοι, να πάρουμε τις τύχες του τόπου στα χέρια μας. Το βιβλίο μας καλεί να σκεφτόμαστε οικουμενικά ώστε να μπορούμε να κρίνουμε τα της πολιτείας μας, να δρούμε τοπικά, να βελτιώνουμε ό,τι μπορούμε γύρω μας.