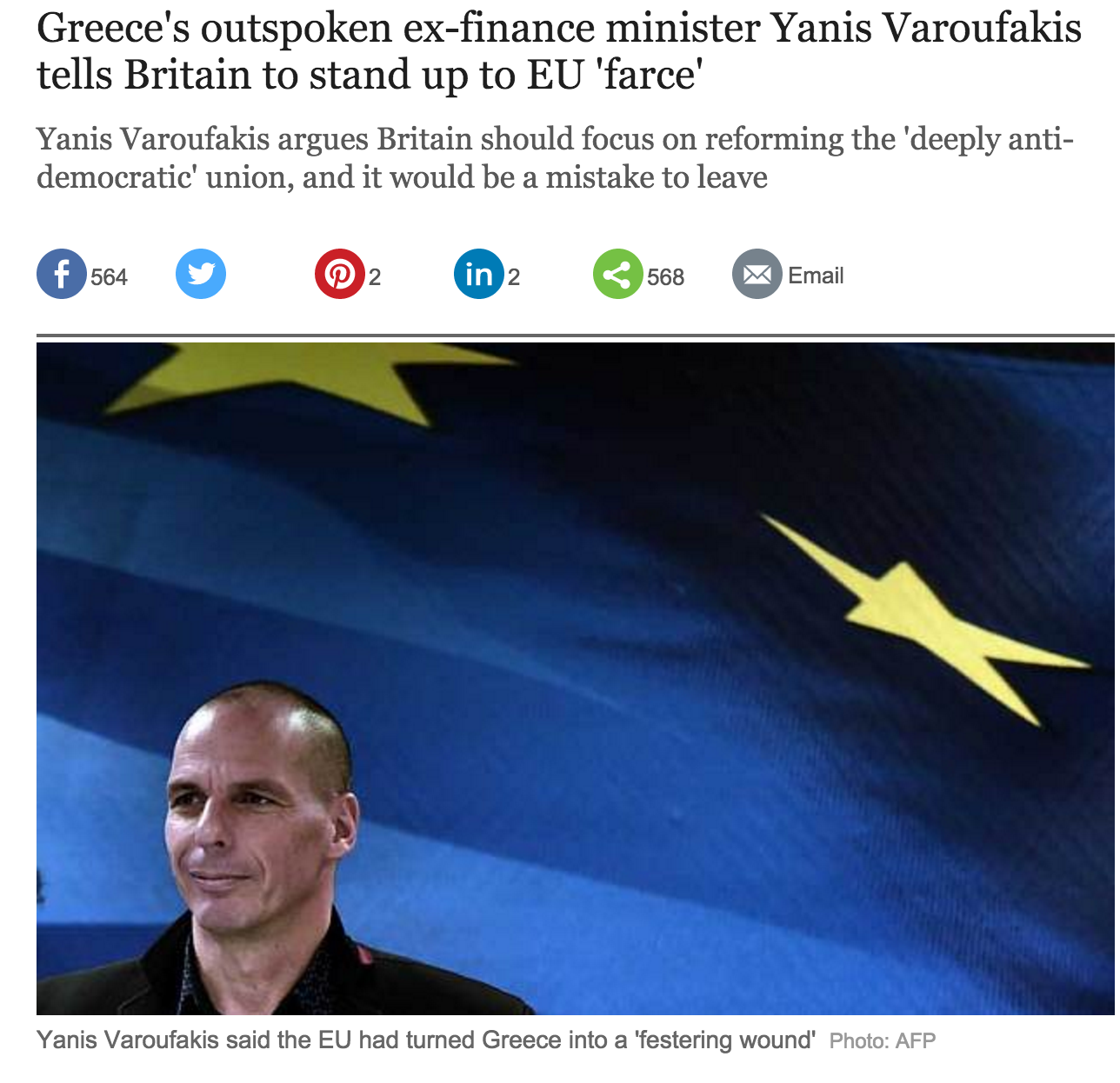 Mr Varoufakis said that while British voters "have every reason to be livid with the deeply anti-democratic" EU, it would be wrong to think a meaningful alliance with the US or China could be formed in its place.
"Neither surrender to the EU establishment nor surrender to the sirens of Brexit. Stay in to confront the EU establishment within Europe.
"Our only collective escape from the current disintegration of the EU, and its horrific impact, is to stick together and to struggle to democratise the EU," Mr Varoufakis wrote in response to a series of questions on website Quora.
Yanis Varoufakis said the European Union has degenerated into a farce
The economics professor, who was thrust into the spotlight when he became Greece's finance minister a year ago, said the EU is in an advanced state of deconstruction after degenerating "into a farce".
Beyond the eurozone, the Schengen agreement – which allows free movement among 26 European states – has already been suspended and is under enormous strain, as the "forces of xenophobia, ultra-nationalism and plain paranoia" are taking over, Mr Varoufakis argued.
"At the political level, on multiple issues, the EU's disintegration is everywhere to be seen," he added.
"Eastern European governments openly declare their opposition to the very principle of solidarity, the British electorate is alienated from Brussels (and will vote to stay in only out of fear of the unknown), and Europe's southern periphery is ravaged by an unnecessary depression that is fully due to the toxic macroeconomic management of a Brussels-Frankfurt establishment that is far more interested in pretending to enforce unenforceable rules than to serve the Union's interests."
Mr Varoufakis argued that Greece's woes would not have been so pronounced had the debt-ridden country opted to stay out of the eurozone.
"Greece was always a problematic social economy. But it was its eurozone membership that turned my country into a festering wound," he wrote.
• UK would be a 'better place' if it left the European Union, claims one of London's biggest hedge funds
He said Greece's economy would have grown at a much more stable rate prior to 2008 if it had remained independent, and the recession would have been less brutal, with recovery only beginning again in 2010.
"Would the eurozone have experienced a euro crisis? Of course it would have. It would not have started in Greece but in Ireland, in Portugal, in Italy, … somewhere. The reason is, of course, that the eurozone (i.e. its banks and single currency) was never designed to sustain the shock of the 2008 global financial crisis."
Mr Varoufakis, who resigned as Greece's finance minister after a controversial six months in the role, has recently launched a new political movement aimed at "democratising" Europe.
DiEM25 – Democracy in Europe Movement – wants to produce a "clear" manifesto for the union that is based on co-ordinated ideas among the 28 member states.