By Daniel Marans. Click here for the HP site or read on…
WASHINGTON — The United States did not pressure Germany more heavily to give Greece debt relief because it needed Germany's cooperation in higher-priority foreign policy matters, according to a former Greek finance minister.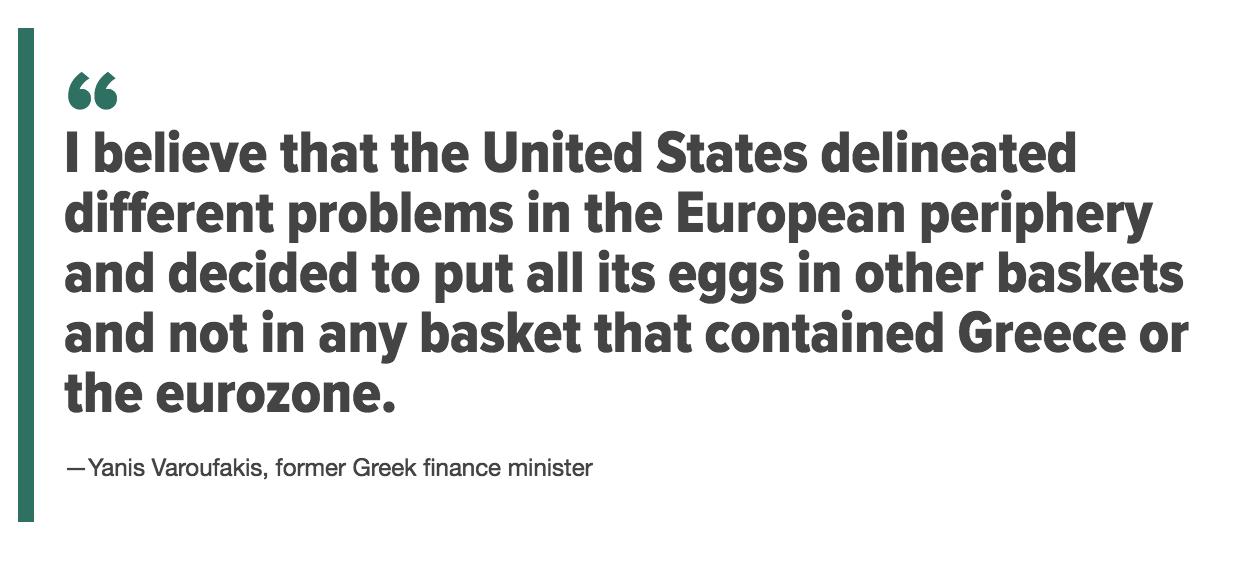 Yanis Varoufakis, the ex-cabinet official who became famous as the face of Greek defiance in the first half of 2015, said the United States, like the International Monetary Fund, believed Greece's European creditors must provide the country with debt relief if it was ever to regain financial independence. High-ranking officials in Germany, which is Greece's largest sovereign lender, remain reluctant to reduce the Mediterranean nation's debts.
But Varoufakis said the United States ultimately did little to back its views by putting pressure on Germany.
"They would occasionally offer a kind comment about the need for debt restructure, but beyond that, absolutely, radically nothing," he said. "And that has not changed."
Varoufakis, a prolific and outspoken progressive economist, was in Washington on Wednesday to promote his new book, And The Weak Suffer What They Must? Europe's Crisis And America's Economic Future. Since resigning under pressure in July, Varoufakis has founded the Democracy in Europe Movement 2025, a left-leaning initiative promoting a more democratic European Union.
He argued on Wednesday that the United States' inaction on Greece stemmed from a belief that Greece was "in the sphere of influence of Germany."
"I believe that the United States delineated different problems in the European periphery and decided to put all its eggs in other baskets and not in any basket that contained Greece or the eurozone," he added.
Intervening was not worth the risk of jeopardizing German unity with the U.S. against Russian meddling in Ukraine, as well as collaboration on the U.S.'s agenda in Libya and Syria, according to the ex-finance minister.
"Let's say that it came to my attention that the Ukraine, Libya, Syria were higher in the list of priorities of Washington," he concluded.
The Treasury Department declined to respond to Varoufakis' characterization of U.S. policy toward Greece, pointing instead to an official read-out of Secretary Jack Lew's Thursday phone conversation with Greek prime minister Alexis Tsipras. Lew emphasized "the importance of Europe following through on its commitment to put Greece's debt on a sustainable path through meaningful debt relief, adding that all parties need to be flexible to successfully conclude the negotiations," according to Treasury.
Varoufakis' account is consistent, however, with what The Huffington Post reported in July.
A case can certainly be made that the United States has an interest in Germany relaxing its insistence on massive fiscal austerity in exchange for emergency loans. Europe's three consecutive bailout packages for Greece — a member of NATO — have succeeded in shoring up the largely German and French banks to whom Greece owed its debts, but shrunk the Greek economy by an order of magnitude, causing untold human suffering. Even the country's creditors are unsure if it will ever be able to repay its debts to them and return to borrowing on the private credit markets.
Although Greece's economy is very small in the global picture, many economic analysts blame German-driven fiscal belt-tightening across the continent for a sluggish and fitful economic recovery. Europe's economic malaise has left it ill-prepared to weather a global slowdown, which is prompting concerns at the Federal Reserve about the economic outlook for the United States.
Now Greece is on the front line of a refugee crisis caused largely by turmoil in the Middle East that has generated geopolitical shockwaves. Absorbing the wave of asylum-seekers, mostly headed to wealthier European nations, has put additional strain on the Greek economy.
President Barack Obama offered stinging criticism of Germany's treatment of Greece in February 2015 remarks.
But as the crisis escalated, the Obama administration declined to speak out.
Only in late June and July, when Germany and other international creditors appeared prepare to force Greece out of the eurozone, with the Greek banking system on the brink of collapse, did the administration speak up.
Lew called for Greece's creditors to allow the country to restructure its debts and for Greece to continue budgetary and economic reforms. Some experts believe the United States was behind the release of an IMF report characterizing the country's debt as unsustainable. The report came out over European objections at the height of last-minute debt negotiations in early July.
As Varoufakis noted, though, the U.S. never exercised any real leverage over Germany to advance this goal. Experts told HuffPost in July that the White House, for example, could have offered Germany sweeteners in its trade relations or weapons sales in exchange for giving Greece better terms.