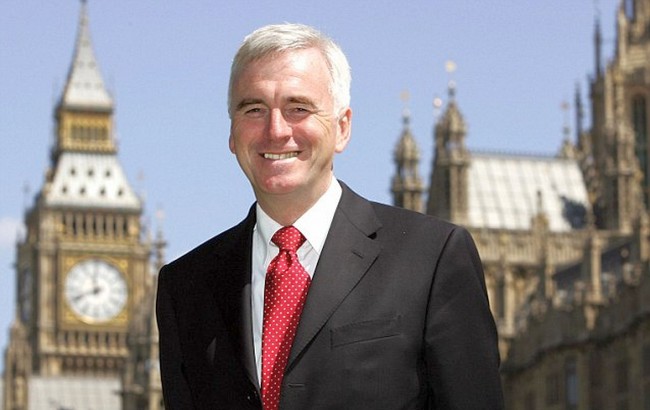 Labour's Shadow Chancellor of the Exchequer, John McDonnell has now joined forces with DiEM25.  
John is the latest in a rapidly expanding list of illustrious DiEM25 participants, including Ken Loach and Brian Eno (from the UK), Noam Chomsky and James K. Galbraith (from the US). John McDonnell and Yanis Varoufakis (DiEM25 co-founder) have been campaigning alongside for months to usher in a progressive economic agenda for the UK as well as to present the radical, progressive case for Britain to stay in the EU in order to democratise it. On 28th May, John and Yanis co-signed, along with Caroline Lucas and others, the LONDON DECLARATION, which reflects DiEM25's spirit and Manifesto.
On hearing that John is joining DiEM25's ranks, Yanis Varoufakis said:
"DiEM25 is proud to welcome John McDonnell to its ranks. At a time when Europe is disintegrating under the weight of austerity and its democratic vacuum, our movement is bringing democrats together from across the continent. Together we confront failed policies and an establishment contemptuous of democracy. Together we seek to reclaim our Europe on behalf of its citizens. We refuse to surrender to Brussels but we also refuse to surrender to the soothing fantasy of recoiling within our nation states. As Britain's Shadow Chancellor of the Exchequer, John is working feverishly to create a progressive Labour Party economic agenda for Britain. DiEM25 works towards integrating such agendas into a pan-European agenda. John McDonnell, welcome to DiEM25. We have so much to work towards."
John McDonnell's address at the DiEM25/AEIP 'Vote In' launch last Saturday energised the assembly by holding forward the fact that:
"For the first time in over a generation, there are movements and political forces…mobilising across Europe to respond to (the challenge of democratically transforming European institutions) – but responding to it increasingly together.
"We have the opportunity now (to recover) a debate about the democratic future of a Europe…that's vitally needed,…proud of being British,…but also proud of the European future we're creating in solidarity."
Yanis Varoufakis reiterated the significance of the event in observing that:
"…to ensure that change is progressive, we have to embed Britain's democracy in a broader surge of democracy (running) throughout the breadth…of the European Union. This is why I'm here about to sign the London Declaration for a social Europe; a democratic Europe; a dynamic Europe; a peaceful Europe; an open Europe; a sustainable Europe."