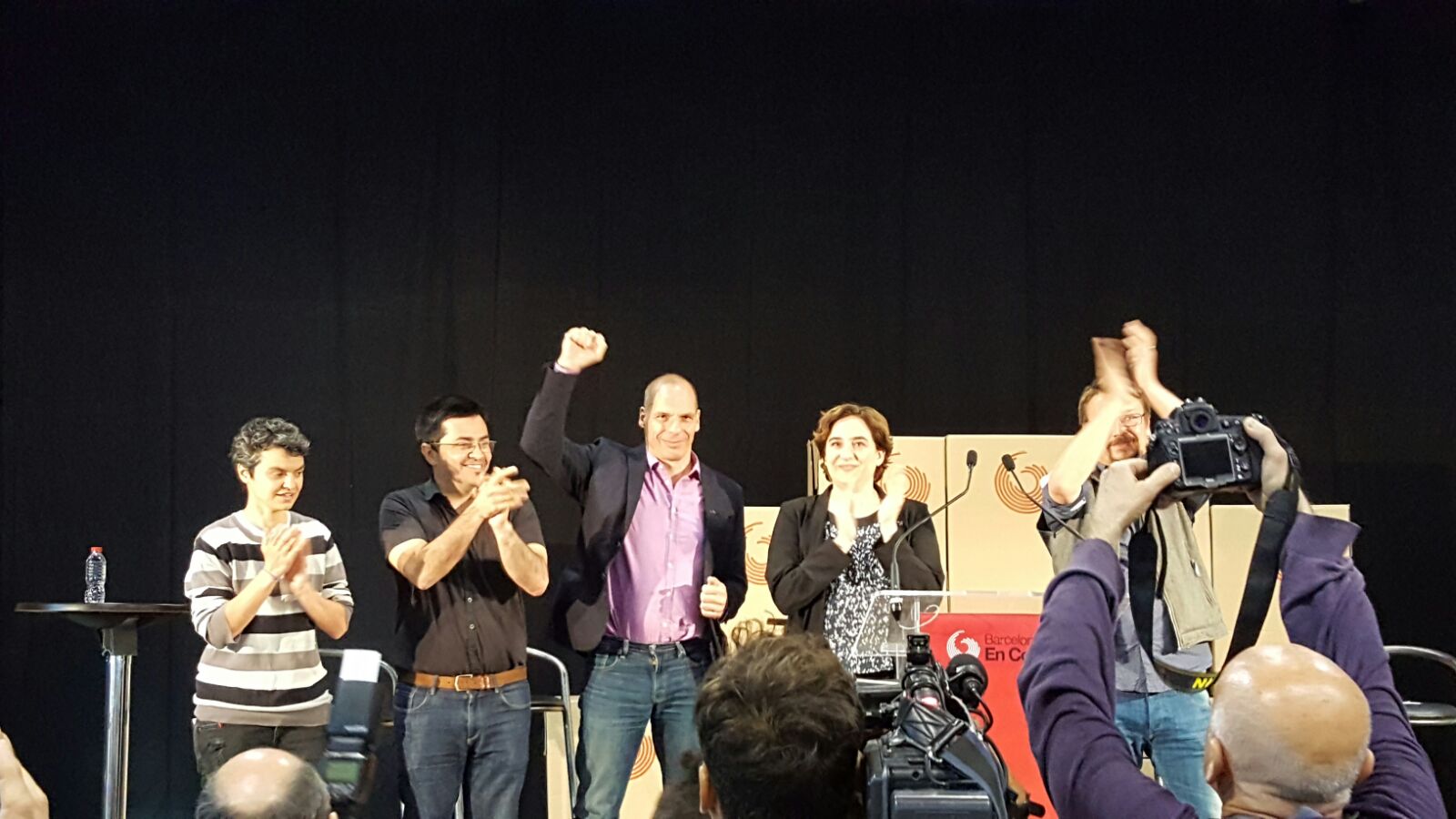 Yes, the Spanish general election campaign has begun and the forces of regression have chosen to begin their smear campaign by targeting Ada Colau, the Mayor of Barcelona and one of DiEM25 initiators. The charge? That she spent local government money to bring me to Barcelona. Of course, that this is a lie does not concern the right wing Ciudadanos folk who, at once, profess to clean up politics and smear comrades like Ada Colau.
And now the truth (for those who crave the facts):
I was, indeed, on Barcelona recently – see the photo above and video below. I was there to join in the first year anniversary of Ada's spectacular victory that led to her becoming the Mayor of Barcelona. Except that I paid for all travel expenses myself. For the receipt click here (the total cost included two tickets, for myself and my wife, and two hotel rooms, one for us and one for a DiEM25 associate).
Also, in February 2015, while I was Greece's Minister of Finance, I received an invitation to participate in a festival of ideas organised by the previous City of Barcelona administration, involving other speakers such as Anthony Giddens, Loreta Napoleoni, Owen Jones and Judith Butler. All speakers were offered accommodation, travel and the same fee. Although I accepted that invitation, I could only attend months later. By that time Ada Colau had become Mayor but it was at the invitation of the previous Mayor that I attended.
These are the facts: Ada Colau's administration of the City of Barcelona never brought me to Barcelona at the city's expense. That the truth is being savaged (by the Peoples Party and the fading Ciudadanos) to prevent the Left from winning the election does not surprise me. The ruling European establishment in every country lacks intellectual content and any programmatic narrative that can convince the electorate. As a result, its political representatives resort to smears and outright lies.
Personally, and on behalf of my DiEM25 comrades, I am deeply honoured every time the disgraced political representatives of a reprehensible ruling class attempt to vilify me. As I have said in the past, I wear their loathing with pride.